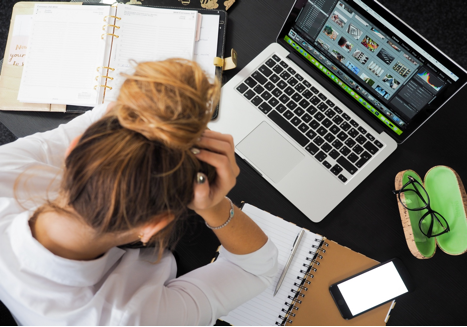 Chronic neck pain is an increasingly common complaint among new patients who visit my Orange County chiropractic and wellness office. This upswing in chronic neck pain is due in large part to the growth of social media and increased time in front of the computer or on the cell phone.
This chronic neck pain has to do with the way you tilt your head and the way you extend your neck during marathon sessions on the computer or while texting.
Computer and phone use are not the only culprits when it comes to chronic neck pain, however.
Outside of obvious factors like arthritis, injuries and degenerative disc disease, let's look at a few common causes of chronic neck pain.
Hunching Over Your Computer
Some of you work on the computer for hours as part of your employment; others spend long periods of time on social media, playing computer games, reading or communicating with family and friends.
Usually, this entails long hours of sitting with your head positioned at an angle that makes digital reading and communicating easier and more comfortable. There is also a tendency to hunch over the computer, with your neck extended, when a chair is too high for your desk or table.
Many new patients at my Orange County chiropractic and wellness office tell me that their neck is stiff after spending too much time on the computer. When they log off at night, they need to stretch and maneuver their head to loosen stiff muscles.
Over time, this can lead to spine and nerve issues in the neck area.
Driving Long Distances
Some of my patients in Orange County drive long distances to work; others spend time traveling by car on the weekends to their favorite weekend destinations. Driving can be detrimental to your neck for several reasons. Some of these reasons are subtle, and others are more obvious.
Hunching over the wheel—this can lead to issues with your neck vertebrae and nerves
Poor neck support—this can lead to chronic neck pain and, left untreated, more substantial issues of the upper vertebrae
Slamming on the breaks—this can cause subtle whiplash and nerve damage
Prolonged Phone Use
Often people wedge their phone between their shoulder and their ear while talking to keep their hands free. This puts undue stress on the neck, vertebrae and surrounding muscles.
But this isn't the only issue when it comes to your phone hobbies in relation to neck pain. Texting can also cause chronic neck pain because many people keep their heads down and employ a constant neck-tilted-forward posture while texting.
Sleeping
Falling asleep in an armchair or on the couch with your head resting on a stiff-furniture arm is an obvious cause of chronic neck pain. Stacking pillows in a way that extends the head too far from the neck can bring the same pain.
Ideally, you want a pillow that supports your neck while you sleep.
Don't Wait To See A Chiropractor
Often neck pain goes away without treatment. But if you find yourself experiencing recurring pain while working on the computer, while driving, using the phone, upon waking or performing other daily tasks, it's important to see a chiropractor immediately. A slipped disc or pinched nerve in the neck area can be debilitating and excruciatingly painful.
Too often, patients wait until a disc has slipped in their spine or a nerve has been damaged…until recurring discomfort becomes chronic agony before making an appointment.
At Winchell Chiropractic and Wellness Center, we utilize all the latest treatments and technologies to align your spine (including your neck) to end your pain and prevent further long-term damage,
Make a chiropractic appointment in Orange County today.