The Orange County Chiropractor Whose Passion is Your Health
We practice a patient-centered, hands-on approach to chiropractic wellness. People of all ages benefit from the individualized care we provide. Our goal is to help you feel good, so you can lead a healthy and active life. Dr. Winchell, the best Orange County chiropractor and his team are dedicated to giving you the highest quality care in a welcoming environment. We are passionate about improving our patients' health each and every day.
Too many of our patient's find us after having tried what feels like "everything" -- only to wish they had seen the top Orange County chiropractor first. Don't let that happen to you!
Trusted by Pro Athletes
to Weekend Warriors
Athletes have to be selective when choosing doctors to care for their bodies. From Super Bowl stars to weekend warriors – golfers, tennis players, runners, bikers, and surfers -- they count on Dr. Winchell, best Orange County chiropractor for the fast recovery and lasting results he is known for. He is the go-to guy for chronic and acute sports injuries in Orange County.
With the same care and attention he gives his athletes, Dr. Winchell treats patients of all types.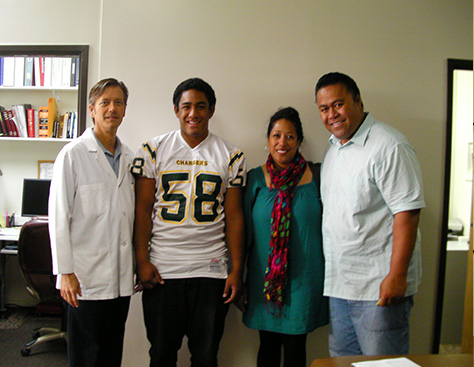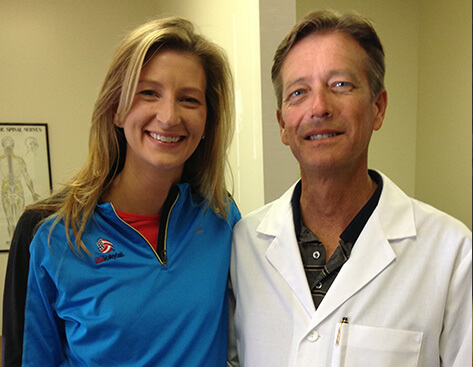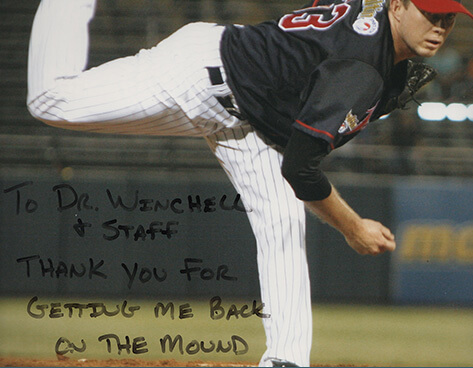 Highest Level of Expert Care
One of the select doctors of chiropractic invited to train with Harvard Medical post grad, Dr. Winchell is highly educated and well known Orange County chiropractor for his ability to restore health to patients, even when no one else has helped. A constant researcher, he studies relevant research and attends extensive conferences. Just last year, he spent weeks at the National Institutes of Health in Washington D.C. learning about the most recent studies not even yet published. His patients always feel confident their health is in good hands.
We are Compassionate and Respect You
When you are suffering, personal, compassionate, and friendly service is just what you need at a chiropractic center. We have treated thousands of patients who walk in our door for the first time aggravated by their discomfort and ill health. By getting to know these patients and how they are suffering, we understand what you are going through. You will always be greeted with a friendly smile and treated with compassion and respect.
What We Do is Different
What Dr. Winchell does is a different approach than other healthcare professionals. He takes time to listen to you, and to discover and then treat the cause of your condition, rather than treat symptoms. His non-drug, non-surgical treatments provide results you can count on.
Whether you are searching for pain relief and healing, or natural wellness and weight loss, Dr. Winchell is committed to only the best treatment options that work. An avid researcher, he constantly evaluates current medical studies, alternative therapies, and treatment options that give you the best results. His signature therapy that has our patients raving provides 30-50% faster recovery than similar therapies by stimulating healing at the cellular level, with lasting results.
Your Comfort and Convenience is
Important to Us
We believe your time is valuable.  So we make sure you don't sit and wait...and sit and wait.  We are committed to keeping your time in the office to a minimum, while giving you the quality of care necessary for your health and recovery.
On-Time appointments, with little to no waiting.
Drop-in treatments welcome without an appointment. We will work you in after our patients with an appointment are treated.
Insurance billing is done for you.
Kid-friendly environment, the little tykes are always welcome.
You Can Be Confident You Have Made
the Right Treatment Choice
We know choosing a healthcare professional that is right for you is a difficult decision and it is important for you to be confident you've chosen the best team. We invite you to meet with the best Orange county chiropractor, Dr. Winchell for a complimentary consultation where together you can discuss your condition and options for care. He will do a thorough exam and gather all the information needed to make a personalized treatment recommendation you can trust. If another type of healthcare professional is a better choice for your condition, he will refer you to a specialty best suited for you, because our ultimate purpose is to give our patients their quality and joy of life back.
Frequently Asked Questions
To help serve you better, we have compiled the most commonly asked questions from new patients visiting our office. Can't find your question, our staff is eager to answer your call and help you discover your path to better health.
Dr. Winchell is dedicated to his profession and patients. As a researcher, he believes that knowledge is key to the tremendous success he has with his patients' treatment. And also believes in the importance of educating his patients about their condition, their involvement with healing, and in prevention.  As a team, Dr. Winchell helps his patients reach their optimum level of health. He encourages your questions and involvement with your healing plan.
Frequently Asked Questions About Chiropractic