Do You Have Symptoms of Car Accident Injuries?
Even If Your Car Isn't Damaged in an Auto Accident, You May Still Have Car Accident Injuries
Common thought about car accident injuries is that if there's no damage to the car, then there's no injury to its passengers. However, that is unfortunately often not the case.
Let's consider Sir Isaac Newton's Third Law of Motion. "For every action there is an equal and opposite reaction." This applies to car accidents. The momentum of energy (G-force) of one car is transferred to the other car upon impact. If the car is damaged, the car has absorbed some of the momentum. If not damaged, all of the energy is still transferred, but absorbed by its passengers. Cars are designed to crush upon collision to take the force of impact, rather than the passengers. The average acceleration experienced by the occupant in an accident without vehicle damage experience approximately twice that of an accident with vehicles that crush.
The most common injury resulting from low-speed, low-impact car accidents is whiplash, anywhere from mild to severe. Symptoms range greatly from mild neck pain to severe. Some may just experience stiffness or reduced range of motion or neck instability. Shoulder and back pain or headaches are also often felt.
However, symptom intensity does not measure your need for treatment. Symptoms often emerge long after the damage is done – and after insurance has settled, leaving you stuck with the medical bills.
As reported in the Journal of Bone and Joint Surgery, people involved in a car accident are nearly 7-times more likely to suffer from neck degeneration within 7-years after the accident. One of the biggest reasons patients visit our office is for problems that started years ago. Patients that were involved in a minor car accident in the past and had no treatment will come to our office with degeneration in their neck and symptoms such as headaches, neck pain, reduced range of motion, and stiffness.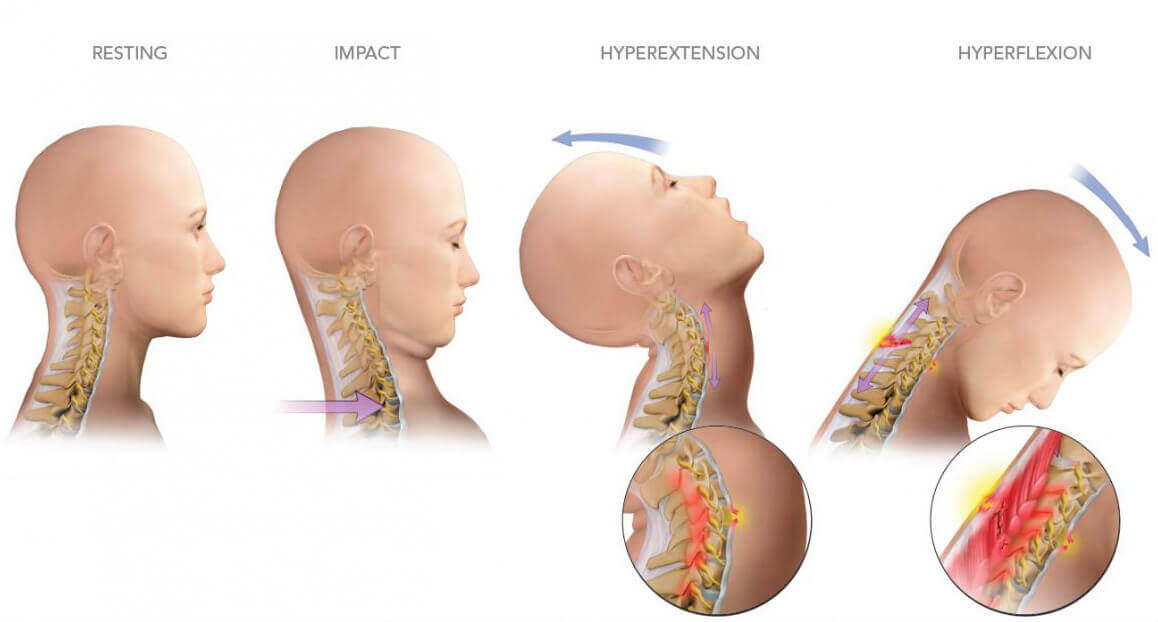 Symptoms of an Auto Accident Injury
Symptoms of an auto accident injury may include one or more of the following:
Blurred vision or dizziness
Ear ringing
General stiffness
Headaches, especially behind the eyes
Nausea
Numbness, or burning, piercing and/or radiating pain in the neck, jaw, face, shoulders (and between the shoulder blades) and arms, which is usually a sign of a muscle or ligament tear
Pain in any of the extremities
Sharp pains when moving an extremity such as an arm or finger (a possible sign of disc damage)
Swallowing difficulty
Low back pain
Our bodies try to immobilize injured areas following a trauma. This usually begins with "protective" muscle spasm. As the name implies, the spasm is an attempt to prevent further harm by immobilizing damaged joints and muscles. If function is not restored within 4-8 weeks, then scar tissue will be laid down at the site of injury, making the return to full function even more difficult. This eventually leads to increased bone growth in the joint causing joint degeneration.
Research Shows Chiropractic Treatment is the Best Choice for Auto Accident Injuries such as Whiplash
A study published in the Journal of Orthopedic Medicine concluded that, "Conventional treatment of patients with whiplash symptoms is disappointing. In chronic cases, no conventional treatment has proved successful." It went on to confirm the success of chiropractic treatment, with 74% of patient improving following treatment. The study concluded, "The results from this study provide further evidence that chiropractic is an effective treatment for chronic whiplash symptoms."
Another study conduced by the University Department of Orthopaedic Surgery in England states, "The results of this study would suggest that benefits can occur in over 90% of patients undergoing chiropractic treatment for chronic whiplash injury."
Comparing medication treatment to spinal manipulation, a study published in the Journal of American Medical Association found that for neck pain, spinal manipulation had a statistically significant advantage over medication in both the short and long term.
Your Solution for Auto or Car Accident Injuries
Chiropractic adjustments return joints to their proper motion and position allowing your body to regain its lost function. Left untreated, degeneration and arthritis commonly settle in and cause symptoms that are difficult to treat and sometimes irreversible. We see too many people who did not get treatment after an auto accident and find us years later with chronic pain and a highly degenerated spine.
Don't let that happen to you!
Dr. Winchell's goal is to return your injured joints, muscles and nerves to complete, healthy function to reduce increased risk of degeneration and chronic issues.
If you have been involved in an auto accident, don't wait. Get an evaluation immediately to determine if your body has experienced soft tissue damage and what you can do to avoid pain, degeneration, or other complications in the future. Even if you were seen in the emergency room after the accident, often times auto accident patients are not evaluated for whiplash because the symptoms are frequently delayed.
If you've been in an auto accident, book an appointment online or call our office for a complimentary evaluation. Avoid potential future neck, shoulder and back issues, take care of yourself today.