Common Symptoms of a Back Condition
Pain Radiating Down a Leg
Back Pain Patient Reviews
What's Causing Your Back Pain?
The cause of your back pain often exists long before the pain begins.
There are many causes of back pain and are sometimes unavoidable. They can occur at any point during your life and it may take years before causing pain or other noticeable symptoms. While traumatic events like accidents and sports injuries can lead to problematic back pain, sometimes even the simplest movements, like picking up a pen from the floor, can have painful results. As long as your back is healthy and functioning correctly, it can withstand tremendous forces without injury. A football player can take a 230-pound tackle. But, if your back is out of adjustment or has weak supporting muscles, something as simple as taking a bag of groceries out of the trunk can cause a back injury. In children, misalignments can initially occur during the birth process, learning to walk and during play.
Pinched Nerves Cause Back Pain
According to the National Institutes of Health, the majority of acute low back pain is mechanical in nature, meaning that there is a disruption in the way the components of the back (the spine, muscle, intervertebral discs, and nerves) fit together and move.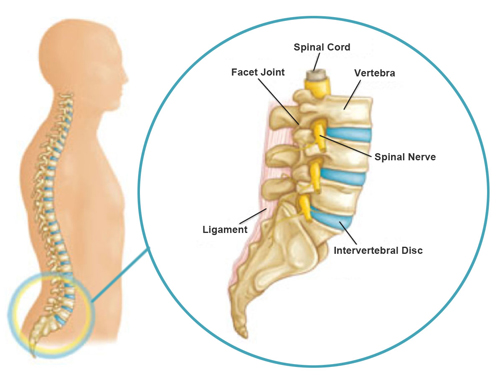 Your spine is made up of a series of bones stacked like blocks on top of each other with cushions called discs in between to help absorb shock and weight. Facet joints are specialized joints that connect the vertebrae and allow us to twist and bend. In the center of each vertebra is a large opening, called the spinal canal, where the spinal cord and nerves pass. The vertebrae are held together by ligaments, which are fibrous tissues that connect bone to bone and help keep the spinal column in the correct position. From a side view, there are three natural curves to help distribute body weight and give us balance.
There are many issues that can develop from this delicate system. If your body does not realign even just one of these vertebrae, disease begins to develop.
Several common causes for spinal misalignments that are not easily detected, like an acute injury that is more obvious, include:
Poor posture
Weight
Repetitive movement, usually from a work task
Short leg
Poor sleeping habits
Bending forward too long
Holding a phone to your ear with your shoulder
Carrying a heavy purse, briefcase or backpack
A difficult pregnancy
Difficult birth
Improper bending, lifting or carrying
Stress or anxiety
Environmental toxins that stress the body, like high quantities of caffeine, processed foods, smoking, alcohol
What is a Pinched Nerve?
Pinched Nerves are the cause of many health issues, and are often called misalignments or subluxations. Of course, potentially traumatic events, such as falls, accidents, sports activities and exercise expose people to risks of developing problematic subluxations. But almost any activity, like housework, working at a desk and even sleeping can produce subluxations of the spine. In simplest terms, a misalignment is when one or more of the bones of your spine move out of position and create pressure on or irritate spinal nerves. Spinal nerves are the nerves that come out from between each of the bones in your spine. This pressure or irritation on the nerves then causes those nerves to malfunction and interfere with the nerves signals.
If left untreated, these normally smooth surfaces on which these joints glide become rough, irritated and inflamed causing degeneration of the spine. Much like tooth decay, most people will have a misalignment long before they notice any symptoms.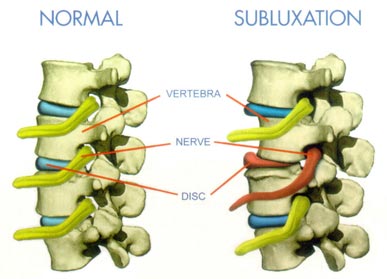 Treat Early to Prevent Spinal Decay
In North America, significant amounts of spinal degeneration can be detected in over one-third of the population by age 30. By age 70, spinal degeneration is present in nearly everyone and all too often in advanced stages.
Early detection and treatment is key to the prevention of long term spinal decay.

Phase 1 of Spinal Degeneration
A misalignment and mild malfunction of the spine. Because the body is so adaptable, this early phase can exist without the warning of pain or other symptoms. The response to chiropractic treatment is very good.
loss of normal spinal curve
disc, joint, muscle and nerve damage
less energy
posture is distorted
height may decrease
Phase 2 of Spinal Degeneration
Phase two is recognized on X-ray views of the spine by visible bone spurs and rough edges of the vertebrae. Soft tissues, such as discs and ligaments degenerate from the lack of normal joint movement. Pain or other symptoms may not be present.
Increasing decay, disc narrowing and bone deformation
Spinal canal narrowing (stenosis) may occur
Aches and pains more common
Fatigue
Height decrease continues
Phase 3 of Spinal Degeneration
Years of neglect may cause the eventual fusion of the malfunctioning joints. Atrophy, permanent nerve damage, and soft tissue degeneration are common. Reduced mobility and impaired nervous system function become more obvious. Phase three can be very painful.
Greater posture imbalance
Increased nerve damage
Advanced bone deformation
Loss of energy
Loss of height
Phase 4 of Spinal Degeneration
The final stage of spinal degeneration is often irreversible and typically causes severe chronic pain and immobility.
Degeneration of the cartilage and bone
Bone fusion, constant pain and discomfort
Permanent loss of height
Inability to turn, bend and twist
Physical and mental weakness and disability are distinct
Chiropractic Care is the #1 Choice for Back Pain
Non-drug treatments, such as chiropractic, are recommended as the first treatment choice, before over-the-counter anti-inflammatory drugs (like aspirin and ibuprofen) or prescriptions for conditions like back pain, by new ACP guidelines.
Another big change to the guidelines is that acetaminophens (like Tylenol and Excedrin) should not be used at all, since recent evidence shows that these over-the-counter painkillers do not help back pain.
In fact, after an extensive study of all available care for low back problems, the federal Agency for Health Care Research and Quality recommended that low back pain sufferers choose the most conservative care first; and it recommended spinal manipulation as the only safe and effective, drugless form of initial professional treatment for acute low back problems in adults
An article published in the Journal of the American Medical Association in 2013 also suggested chiropractic care as an option for people suffering from low back pain--and noted that surgery is usually not needed and should only be tried if other therapies fail.
Studies show that patients who see traditional doctors for drugs or surgery get a reduction in low back pain only half of the time. But patients that get treatment with a chiropractor for low back pain get a reduction in low back pain 94% of the time.
In fact, after an extensive study of all available care for low back problems, the Federal Agency for Health Care Research and Quality recommended that low back pain sufferers choose the most conservative care first. And it recommended spinal manipulation as the only safe and effective, drugless form of initial professional treatment for acute low back problems
About 400,000 people in the United States undergo spine surgery each year. Of those who undergo open neck or back operations, recent surveys have discovered that 30–40 percent experience some form of complications after surgery.
According to the University of California, Irvine Medical Center, of the 56 million Americans who have back pain, only 5 percent need surgery. Charles Rosen, M.D., clinical professor of orthopedic surgery at the University of California, Irvine, School of Medicine states, "An enormous number of back surgeries don't give patients long-term relief." There's even a term for what happens when an operation doesn't improve a patient's condition — "failed back surgery syndrome," said to be the only diagnosis named for a treatment that hasn't worked.
Hi-tech images routinely uncover bulging discs and other scary-looking "abnormalities." Trouble is, those often have nothing to do with what's hurting. "If you took 100 people off the street and gave them MRIs, a third of them — even if they had no back pain whatsoever — would have obvious structural problems," says Dr. Rosen. At best, your doctor might be misled by your abnormal X-ray or MRI, or hope that the abnormality is the cause of your pain and that by fixing it, he'll make you better. At worst, says Dr. Rosen, "the doctor knows full well that the image could be a red herring, but the chance to 'fix' something, and get paid for it, is just too good to pass up."
Warnings Against Drugs for Musculoskeletal Conditions
The American College of Physicians (ACP), the largest medical specialty society in the world, updated its low-back pain treatment guidelines in 2017 to support a conservative approach to care for conditions like lower back pain and recommends spinal manipulation for non-invasive, non-drug therapy for low back pain.
As published in the Annals of Internal Medicine the guidelines state that only when such treatments provide little or no relief should patients move on to medicines such as ibuprofen or muscle relaxants, which research indicates have limited pain-relief effects. According to ACP, prescription opioids should be a last resort for those suffering from low back pain, as the risk of addiction and overdose may outweigh the benefits.
Book an Appointment for Back Pain Relief
Dr. Winchell focuses on eliminating the cause of back pain, rather than just symptoms like most other healthcare approaches. By correcting the misalignments in your spine that are causing degeneration and interfering with your nervous system, the causes of your symptoms are eliminated for long-term results. Bone spurs may reabsorb, muscle and ligament irritation heal, vertebrae strengthen, and nerve function restore.
Back pain is the number one condition Dr. Winchell treats every day. His gentle approach to treatment avoids the unnecessary twisting of the neck muscles associated with traditional "cracking" type of chiropractic realigning adjustments. Using a calculated tap of pressure from a handheld mechanical device, he is able to precisely realign your spinal vertebrae and relieve your nerve constriction. Utilizing Erchonia low-level laser therapy and electrical stimulation, Dr. Winchell's treatments stimulate your body to heal quicker for faster pain relief and recovery of irritated tissues.
You are invited to book a complimentary consultation and exam to find out if Dr. Winchell's treatments are the best choice for your back pain.