Do You Have Symptoms of Failed Back Surgery Syndrome?
Continued or Chronic Pain
Pain in New Area of Spine
Dependence on Pain Relievers
Sharp or Stabbing Pain in Extremities
Failed Back Surgery Symptoms and Natural Treatment to Relieve Pain
As many as 50% of the 200,000 people who have lower back surgery each year don't get their expected result, or worse. Approximately 40% experience failed back surgery syndrome.
Failed back surgery syndrome is a general term for a host of problems that may be related to the surgery. People with failed back surgery syndrome often complain about chronic pain or loss of physical movement.
Back surgery is not effective because the location of the operation is not on the cause of the pain.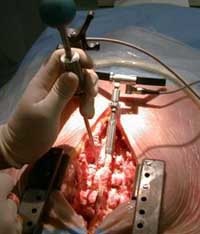 Some of the most common failed back surgeries, or causes of continued pain after surgery include:
Spinal Fusion Surgery
Spinal fusion surgery eliminates the ability of the spine to move in the area of pain. The surgeon commonly adds a bone graft and creates a response that causes the bone graft to grow between two vertebrae the vertebrae fuse and create one fixed bone instead of a mobile joint.
After a spinal fusion surgery, pain often transfers to the next level in the spine because the cause of the problem in a spinal fusion surgery is not eliminated. Additional torque and pressure is then transferred to the adjoining vertebrae.
Dr. Winchell uses the chiropractic approach that increases mobility in the spinal joints by addressing the cause of pain and treating with non-invasive, safe, gentle mechanical adjustments that realign the vertebrae and free the nerve roots. Dr. Winchell also uses cold low-level laser therapy to eliminate swelling and stimulate the body's healing response. Following a failed spinal fusion therapy, Dr. Winchell treats the adjoining vertebrae to relieve pressure created by the fused vertebrae.
Lumbar Decompression Back Surgery
During lumbar decompression back surgery, a small part of bone or disk material is removed to give the nerve root more space. After cutting away the impeding material, a spinal fusion or spacer implant is often necessary to keep the compression from returning. Unfortunately, spinal fusion causes pressure and imbalance to the adjoining vertebral joints, which leads to dysfunction, pain and the start of a disorder in these joints as well.
Dr. Winchell's natural chiropractic approach gently aligns the vertebrae without surgery to remove the pressure on the nerve root and allow the body to heal and pain to be eliminated, along with the problem. With the realignment approach, the cause of the problem is removed, not your bone or disc material that your body needs for proper functioning.
Scar Tissue Post-Surgery
As part of the healing process, the body forms bands of scar tissue after any tissue injury, such as with spine surgery. This scar tissue can pinch a nerve root causing a condition called epidural fibrosis, which can lead to post-surgery pain and failed back surgery syndrome.
Symptoms of Failed Back Surgery Syndrome
Patients are frequently disappointed to find that after their back surgery they either don't have pain relief in the area of the procedure or they experience new symptoms and discomfort.
Some of the most common symptoms of failed back surgery syndrome include:
New pain at a different location in the spine
Sharp, stabbing back pain
Numbness or pain radiating through the low back and into the legs
Back spasms
Inability to recuperate
Pain medication dependence
Stiffness and immobility
Sleeplessness, anxiety, or depression
Your Pain Relief Solution for Failed Back Surgery Syndrome
Known as the go-to doctor for difficult cases, Dr. Winchell has treated thousands of failed back surgeries with excellent success. Dr. Winchell's failed back surgery patients only wish they had come to him first, before surgery, and saved themselves all the pain, time off work, and expense of surgery. Fortunately, in many cases of failed back surgery, Dr. Winchell can treat these cases and bring the relief they've been searching for with gentle, safe, no-pain chiropractic treatments, cold laser therapy, and physical therapy.
If you are experiencing symptoms of failed back surgery, book an appointment for a complimentary consultation and exam with Dr. Winchell to see if your particular failed back surgery syndrome can be relieved with non-surgical, non-drug treatment.