Do Have Symptoms of a Foot or Ankle Condition?
Foot Pain and Ankle Pain Treatment That Fixes the Root Problem
Feet are extremely complex and are prone to injuries and other problems. There are 26 bones in the foot and in between these bones are joints -- all capable of causing foot pain. Additionally, there is a vast network of nerves designed to send messages to the brain so that we are able to feel where we are, maintain balance, precisely kick a ball, and make fine tuned coordination adjustments. With all the bones, joints, nerves, ligaments and tendons in the foot and ankle, it is no surprise they are highly sensitive and can cause so much discomfort.
Disease and trauma are the most common causes of foot pain. But improper posture or the way you walk can create stress on your feet as well. Feet are highly susceptible to sprains, which stretch or tear ligaments and stress fractures of bones that can result from an accident or overuse. Poor footwear choices that don't provide good support are also often to blame for foot pain.
Common Foot Pain & Ankle Pain We Treat
There is a nearly endless list of reasons you may be experiencing foot discomfort, but here we will narrow down to the most common foot pain conditions that we typically treat in our Mission Viejo chiropractic center. All too often patients come in to see us after they have gone through painful surgeries with long recoveries, only to find out their condition could have been treated with simple, non-invasive adjustments and cold laser therapy. Don't let that happen to you. Book a complimentary foot and ankle exam and consultation to learn about your diagnosis and find out your treatment options.
Plantar Fasciitis
Plantar Fasciitis affects the bottom of the foot and usually is associated with pain and tenderness on the bottom of the foot or arch. Pain is generally worse in the morning and decreases with walking. Prolonged standing can also cause pain during the day.
Although the pain with this condition comes from inflammation, the source of the inflammation must be addressed. The most common culprit is shortening of the plantar fascia, which can be caused by overuse or joint dysfunction. This can then reduce the already poor circulation to the plantar fascia. It becomes inflamed, scar tissue eventually forms, and flexibility and strength is reduced.
Learn more about plantar fasciitis here: Plantar Fasciitis
Peripheral Neuropathy
Peripheral neuropathy is nerve damage in your feet or hands. The symptoms include pain that can burn, sting, or feel like electricity. It may start with feelings of numbness in the middle toes and in the balls of your feet. Some people find that once asleep comfortably; they are woken up to jolting pain in their feet. They find that the pain gets better after walking, but returns if they lie down again. Others have difficulty
According to the National Institutes of Health, peripheral neuropathy may be caused by many factors, including physical injury, diseases or disorders, such as autoimmune diseases, kidney disorders and metabolic disorders, as well as toxin exposure, including use of certain prescription drugs.
Learn more about peripheral neuropathy here: Peripheral Neuropathy
Morton's neuroma
Morton's neuroma is a thickening of the tissue around the nerves between the bases of the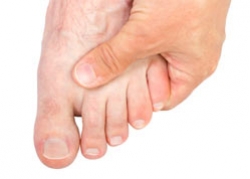 toes. You typically feel pain that extends into the toes, cramping toes that curl and twitch unexpectedly, increase of pain when standing, walking, or wearing shoes, the sensation of a lump trapped below the skin, or sharp burning ball of foot pain.Women are more likely to develop this condition as a result of wearing high heels and tight shoes.
Pinched Nerves
Pain that may be throbbing and worsens throughout the day may be an indication that you are suffering from a "pinched" nerve. Research indicates that a common cause of chronic heel pain is nerve entrapment. This condition is often misdiagnosed because the nerve entrapment or "pinching" is happening in another part of your body, such as the lower back. If a nerve root is compressed in your lower back, it can cause pain to travel down the backside of your body through the sciatic nerve and all the way to your foot. The sciatic nerve connects your spinal cord with the muscles in your legs and feet.
Some common causes of nerve entrapment can be the result of repetitive motions or keeping your body in one position for a long period of time, such as sitting at a desk. If the nerve remains compressed for a long time, the protective barrier around the nerve may break down, causing swelling, numbness and pain.
Learn more about pinched nerves here: Pinched Nerves
Arthritis
Arthritis can cause pain and stiffness, and is common in the small joints of the foot and ankle. Manipulation to the joint to restore function allows the joint to move freely so the soft tissue around the joint may heal.
Learn more about arthritis here:  Arthritis
Heel Spurs
Heel spurs are common growths of bone on the bottom of your heel. Often times they are not painful. You can get them from wearing shoes that are not shock absorbing or from an abnormal walk or posture. Some activities, like running, can cause heel spurs. The spurs may hurt while walking or standing, people with flat feet or high arches are more likely to have painful heel spurs.
Bunions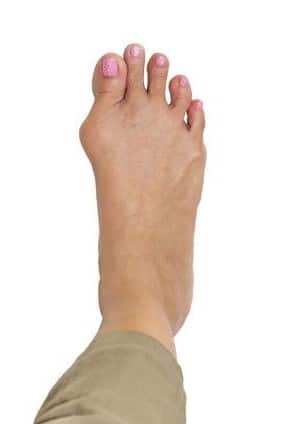 Bunions form a bony bulge along the edge of the foot, next to the base of the big toe. Symptoms include pain, and sometimes redness and heat. The cause of bunions is misalignments of the first toe joint. They often appear as people age. Uncomfortable shoes that don't support and cushion your feet are common causes of your toe joint misalignments. High heels are typical culprits, but even flat shoes worn over time often don't give your joint the support and cushion it needs and leads to joint misalignments and painful bunions. Doctors often recommend surgery that has a very painful and long recovery, with only marginal results. The bunions may reoccur because surgery shaves the bunion bone, but the misalignment and cause of the bunion still exists. However, with just a few gentle mechanical chiropractic adjustments and laser therapy, your misalignments will be corrected and your body may reabsorb your bunions, alleviating your pain and discomfort.
Turf toe
Turf toe is pain at the base of your big toe that is an overuse injury. It is usually caused by strain.
Hallux rigidus
Hallux rigidus is a type of arthritis at the base of the big toe. Symptoms are pain and stiffness in the joint that gets worse over time. As with other types of arthritis, gentle mechanical chiropractic adjustments and laser therapy can eliminate the cause of arthritis and fix the root of the condition.
Metatarsalgia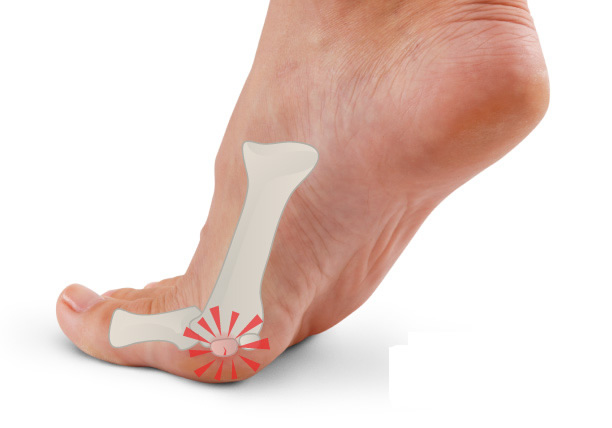 Metatarsalgia is pain and inflammation in the ball of your foot. Sometimes it is also called a stone bruise. It is often caused by running or jumping, especially when wearing shoes that are not well cushioned or don't fit properly.
Sesamoiditis
Sesamoiditis is a form of tendinitis that is common with runners and ballet dancers. In the ball of your foot near your big toe are two pea-shaped bones that are connected only by tendons. These bones are called sesamoids because they are embedded in tendons. You get sesamoiditis when the tendons around them are injured and swollen.
Tarsal Tunnel Syndrome
Tarsal tunnel syndrome is a repetitive stress injury, named after the bones in the toes that form a tunnel where nerves run through. When tendons in the tarsal tunnel become swollen and "pinch" your nerves, you feel pressure and painful symptoms. The bones that form the carpal tunnel can also "collapse," which puts pressure on the nerve, causes inflammation, and other aggravating symptoms.
Tendinitis
Tendinitis is inflammation and irritation of tendons, which are the bands that attach muscle to bone. Tendons run along all the surfaces of the foot, so tendinitis can cause pain in nearly all parts of your feet.
What We Do For Pain Relief is Different
Known and respected for his ability to find the source and relieve pain that other doctors could not help, Dr. Winchell is a wellness and pain doctor in Orange County who is passionate about eliminating even the most severe chronic pain. He is genuinely concerned for his patients.
What Dr. Winchell does is a different approach than other healthcare professionals. He takes time to listen to you, and to discover and then treat the cause of your condition, rather than treat symptoms. His non-drug, non-surgical treatments provide results you can count on to reverse your health condition and pain once and for all.
Our goal is that you live your life without the stress and frustration of chronic pain and discomfort.
You Know You Are in Good Hands
Dr. Winchell is committed to only the best treatment options that work. He constantly evaluates current medical studies, alternative therapies, and treatment options that give you the best results. His signature therapy that has our patients raving provides 30-50% faster recovery than similar therapies by stimulating healing at the cellular level, with results that last!
Patients overall report an approximate 95% satisfaction rate.
Dr. Winchell's patients, from professional athletes and weekend golfers, to busy moms, kids, and jet-set professionals, always feel confident their health is in good hands.
Natural Foot & Ankle Pain Relief, No Drugs or Surgery Needed
Aside from poor shoe choices, injury, disease, trauma and misaligned joints are the most common causes of foot pain. Pain and tenderness or numbness and tingling in a specific area for prolonged periods of time are strong indicators of a condition that needs treatment.
Schedule a complimentary consultation today to learn about your foot or ankle diagnosis and what Dr. Winchell's gentle chiropractic manipulation treatments, physical therapy, and the most researched and highly effective cold laser therapy for accelerated healing and pain relief, can do for your condition.