Do You Have Symptoms of Herniated or Bulging Discs?
Herniated Disc Causes, Symptoms and Natural Treatment
Skip Pain Management, Drugs and Surgery for Your Herniated or Bulging Discs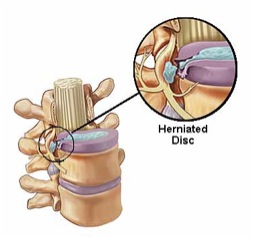 Herniated discs, also called bulging discs, are often caused simply by daily wear and tear on the spine, called disc degeneration. As you age, your discs become less flexible and more prone to tearing or rupturing even with a simple strain or twist. Particularly at risk are people with repetitious jobs that involve heavy use of the back or overuse in sports. Some people are more prone to herniated discs due to genetics. A highly common cause of herniated discs is excess weight that puts extra stress on the discs in the lower back.
A herniated disc is a problem with the rubbery cushion between the bones that stack to form your spine. Think of a jelly donut with a soft center surrounded by a firmer ring. A herniated disc is also often called a slipped disc. But it does not mean the disc has shifted or fallen out of place. It actually refers to a disc that is in one of four stages of degeneration, from a bulging nucleus to a ruptured outer ring. That's why the terms herniated disc, bulging disc, ruptured disc or torn disc are all appropriate names.
Symptoms such as sharp, dull or cramping pain may be felt in your back. You may experience weakness in an arm or leg, or have tingling or pain shooting down one leg. As symptoms worsen, you may not be able to perform your usual daily activities, and have bladder or bowel dysfunction. On the other hand, some people experience no symptoms at all while the condition progresses.
Four Stages of a Herniated Disc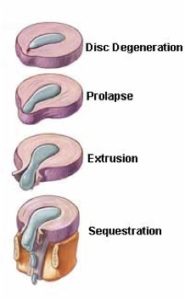 Stage One: Disc Degeneration
During the first stage, the disc weakens from age or genetics, reducing water content in the disk and
losing strength.
Stage Two: Prolapse
The shape of the disc begins to change. A bulge or protrusion starts to form and crowd the spinal cord.
Stage Three: Extrusion
The "jelly" center breaks through the firm outer wall, but still remains within the disc.
Stage Four: Sequestration
During the last stage the "jelly" breaks through the firm outer ring and spills outside the disc in the spinal canal.
 Should I Do Steroid Injections for Pain?
Despite not having FDA-approval, spinal injections have gained popularity for herniated disc pain due to their ability to provide short-term pain relief by reducing inflammation of the affected tissues. However, this solution not only fails to provide a long-term solution, but it also causes additional problems, including weakening of the surrounding muscles, and weakening and brittleness of the bone.
Should I Get Surgery for a Herniated Disc or Bulging Disc?
According to Mayo Clinic, treatment for most patients with a disc disorder do NOT normally include surgery, and 80% of patients will respond to chiropractic treatment when a proper treatment schedule is completed. Surgery is lucrative and recommended frequently for cases that can be resolved with conservative and effective chiropractic care. Only select severe cases a disc herniations are potential surgical candidates, are only should be reserved for a last resort after a more conservative approach to fix the cause of your disc herniation has been tried. Chiropractic manipulation to realign your vertebral joint removes pressure off your disc and nerves, allowing your body to heal your disc, restore nerve function, and resolve your pain.
Most People With Herniated Discs Do Not Need Surgery
According to Mayo Clinic, treatment for most patients with a herniated disc does not normally include surgery. Eighty percent of patients will respond to chiropractic treatment when a proper treatment schedule is completed. Initially a very short period of rest may be recommended, with a gradual return to regular activities. Sitting is bad for this condition because it puts a lot of stress and pressure on the lumbar spine, the location of most herniated discs.
Studies show that chiropractic adjustments not only reduce the size of herniated discs, but in most cases it will completely regress. Regression and reabsorption depend upon the size, location and phase of the injury.
Primary care physicians and orthopedic surgeons will often recommend surgery, pain medications, muscle relaxers or steroid shots because those are their only treatment options. However, these treatments do not address the cause or fix the problem. Physical therapy helps you stretch and exercise in an attempt to reduce pain, but again does not alleviate the problem. Only a doctor of chiropractic is trained to fix the problem and help your spine heal.
Dr. Winchell, top-rated Orange County chiropractor, has successfully treated thousands of herniated and bulging discs. Book an appointment and learn what he can do to relieve your herniated or bulging disc pain today.