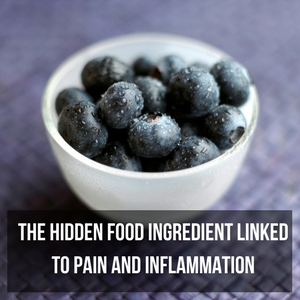 The rise of digestive and inflammatory diseases makes it more important than ever for consumers to understand the link between inflammation, pain, and diet. Unfortunately, increasingly long and complicated food labels make it harder to determine which ingredients are harmful, and which can be helpful. Carrageenan is one of these problematic, hidden ingredients.
On one hand, the large amount of nutritional information on today's labels and menus can empower consumers to be more educated about their food choices. On the other hand, however, customers may suffer from "information overload" and fail to identify the potentially harmful ingredients lurking in their shopping cart. Deciphering long additive names, and determining just how much sugar, salt, and fat is appropriate for your daily needs can feel like a chore. Unsurprisingly, this allows potentially harmful food ingredients to go unnoticed. One of these ingredients, carrageenan, is being questioned on its links to pain and inflammation in humans.
Carrageenan is a widely-used food additive that's derived from an edible seaweed, commonly referred to as "Irish Moss." It's most often used in dairy, processed meat and vegan products as a thickener or textural agent that prevents separation. Carrageenan is not digestible by the human body and has no nutritional value. Since Carrageenan is also available in an organic version, it's also added to several organic "health food" items, like yogurt and plant milk. Carrageenan can be found in ice cream, yogurt, condensed milk, soy milk, cottage cheese, diet sodas, jelly, puddings, vegan or vegetarian meat substitutes, processed meats, and even toothpaste. It's commonly used in vegan food products as a replacement for gelatin. Despite its ubiquitous use, researchers are questioning the link between carrageenan and inflammation.
First, it's important to understand that there are two forms of carrageenan: degraded and undegraded. The undegraded version is used in food production, while the degraded version is not. Another name for degraded Carrageenan is, "Poligeenan." Poligeenan is routinely used by scientists to stimulate pain and inflammation in animal subjects during pharmaceutical studies. It's known that exposure to high concentrations of Poligeenan can cause cancer in animal subjects. Although degraded carrageenan has not been shown to directly cause cancer, it has been linked to intestinal permeability ("leaky guy"), colon ulcers, and intestinal inflammation. One study on rats showed a relationship between Carrageenan and diarrhea. Another study on guinea pigs showed that carrageenan may cause colonic ulcers. Scientists are currently working to model how these effects may translate to issues in the human consumption of carrageenan.
Researchers have been studying the effects of carrageenan and its links to ulcerative colitis, intestinal lesions, and colon cancer since its introduction as a food additive in the 1960s.
A 2012 study by Dr. Joanne K. Tobacman, a scientist at the University of Illinois College of Medicine, was crucial in exposing the potential relationship between inflammation and carrageenan in human subjects. Further details of the study suggest that carrageenan can contribute to glucose intolerance, a key factor in the development of diabetes. In 2015, the World Health Organization on Food Additives determined that carrageen was safe to be added in infant formulas, however, the European Union banned it for this application. In 2016, The National Organic Standards Board (NOSB) voted to remove carrageenan from the National List for use in organics, but the implementation and details of this removal are still being formulated. The USDA will have the final say in 2018, when this decision will be reviewed.
Inflammatory diseases are not the only potential issue surrounding the use of carrageenan as an additive. Researchers are also currently studying a potential link between carrageenan and other health issues, including Type II Diabetes. The Journal of Diabetes Research recently published an article suggesting that carrageenan may be linked to glucose intolerance. Carrageenan may cause a spike in blood sugar levels, and may have a link to the development of diabetes. Consumers struggling with the onset or management of Type II Diabetes may want to consider avoiding this additive altogether.
Those who suffer from Inflammatory Bowel Disease (IBS) should be especially wary of consuming carrageenan. IBS is an intestinal disease that can cause pain in the stomach, gas, diarrhea, and constipation. Avoiding additional irritation from food additives can be helpful in preventing these symptoms. Others who suffer from spastic colon, bloating, colitis, or chronic diarrhea, may also considering cutting carrageenan from their diet. Luckily, there are several brands on the market who are committed to leaving carrageenan out of their products.
There is a national movement amongst doctors, nutritionists, and other food and health-focused groups to ban the addition of carrageenan in US foods. In fact, the allowance of carrageenan as a food additive was most likely in the interest big-businesses in the 1990's, looking to reduce costs and increase production efficiencies. At present day, carrageenan is most widely used by these groups, even though several smaller scale organic companies have added this to their products.
Avoiding irritating food additives is one of the best ways to manage digestive issues and intestinal irritation. But to reduce inflammation, it's important to understand how it starts. Typically, inflammation starts in the gut, when the body reacts to substances in the intestinal lining. The intestinal lining may weaken due to elevated cortical levels and the presence of linoleic acid. When the lining is more permeable, these irritating substances (toxins, bacteria, and acids) can more easily travel into the bloodstream and challenge the body's immune system. Over time, the immune system may become more overworked, causing the body to respond with inflammation. This inflammation may manifest as pain, fatigue, or organ damage.
But changing the diet is not the only way to reduce inflammation. Reducing inflammation is a complex and holistic endeavor, involving a combination of changes to diet, exercise, sleep, medications, and sometimes a regime of chiropractic treatments. Chiropractic adjustments may help reduce the production of cytokines, and cell secretion that contributes to inflammation. By making thoughtful choices about diet, exercise, and working with the right practitioners, many Americans may find relief from the daily pain and health issues caused by long-term inflammation.