Common Symptoms of Neuropathy in
Arms, Hands, Legs, or Feet
Sensitivity to Temperature
What is Peripheral Neuropathy and Can It Be Reversed?
Peripheral Neuropathy is a painful condition caused by damage to the nerves that radiate out of your spine to your arms and legs. This potentially disabling condition interferes with your body's ability to deliver messages between your brain, muscles, joints, skin, or other organs. When the brain and nerves are not communicating right, you may feel unusual and often painful sensations. If ignored or not treated correctly, neuropathy can lead to irreversible damage and health conditions, including amputation in the most severe cases. Fortunately, with early detection and proper treatment, most cases of peripheral neuropathy progression may be stopped, or reversed and healed.
---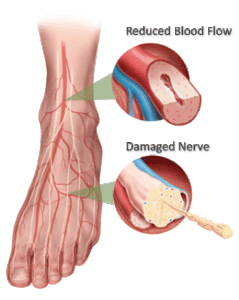 What are the Symptoms of Nerve Damage?
Symptoms vary widely, depending on which nerves are damaged, and what stage of damage they are in. They are divided into three categories, based on the type of nerve affected.
Motor Nerve Damage
Motor nerves control voluntary movement -- movement you control by telling them what to do. Such as grabbing a pencil, talking, and walking. 
Common symptoms of motor nerve damage include:
muscle weakness
twitching
cramping
muscle atrophy (significant shrinking of muscle size)
decreased reflexes
Sensory Nerve Damage
Sensory nerves communicate information of feelings, like pain of a cut or heat from the sun.
Common symptoms of sensory nerve damage include:
loss of feeling on the skin, such as touch or heat
feeling of wearing gloves or socks, even when not
loss of coordination, making it difficult to tie shoes or button a shirt
loss of balance, making walking more difficult
oversensitivity to pain
oversensitivity to touch, causing people to lightly drape sheets over when sleeping
loss of pain sensation, the most dangerous symptoms of them all and the leading cause of diabetic neuropathy patient amputation after not getting treatment because they could not feel their nerve damage so did not get treatment
skin, hair, joints and bone may also be damaged over years of sensory nerve damage
Autonomic Nerve Damage
Autonomic nerves control your automatic body functions, like breathing and digesting food.
Common symptoms of autonomic nerve damage include:
inability to control blood pressure
loss of bladder control
inability to sweat, which affects tolerance for heat
---
Progression of Symptoms
The first symptoms of peripheral neuropathy are often mild tingling or numbness, or some may feel a prickly sensation. Some people with first signs of peripheral neuropathy may just have mild discomfort at night that disrupts sleep. But over time, the initial symptoms get worse and new symptoms develop, such as muscle cramps and spasms, loss of balance when standing or trouble walking, or hypersensitivity to temperature or touch. As blood vessels become more diseased, nerves shrivel and degeneration progresses, at which point more advanced symptoms develop, such as burning and sharp electric pain. However, for some patients with neuropathy, the symptoms may lessen when the disease gets worse if their neuropathy affects sensory nerves and they lose the ability to feel.
---
Types of Peripheral Neuropathy
There are over 100 types of peripheral neuropathy, but in general, they are grouped into categories that separate the location of the nerve damage and which nerves are damaged. 
mononeuropathic -- affecting a single nerve
multiple mononeuropathic -- affecting two separate nerves at the same time
polyneuropathic -- affecting multiple nerves
Some peripheral neuropathies affect the axon portion of the cell (where electrical pulses travel to other cells), others affect the myelin (the insulation covering of the axon), and some affect both. 
---
Common Causes of Neuropathy
PHYSICAL TRAUMA
Injuries
Nerves that are pinched, crushed, or cut from trauma such as in sports injuries, auto accidents and falls can become damaged and develop neuropathy. Broken bones and dislocated bones can put pressure on and damage surrounding nerves.
Repetitive Stress
Repetitive motion, especially experienced in sports, typing, and some jobs, over a long period of time causes ligaments, tendons and muscles to become inflamed and swollen. This then narrows the small tunnels where nerves pass, causing the nerves to be pinched and damaged. Ulnar neuropathy is an example of nerve damage trapped in the elbow, and carpal tunnel syndrome is an example of nerves trapped or compressed in the wrist.
DISEASES AND DISORDERS
Diabetes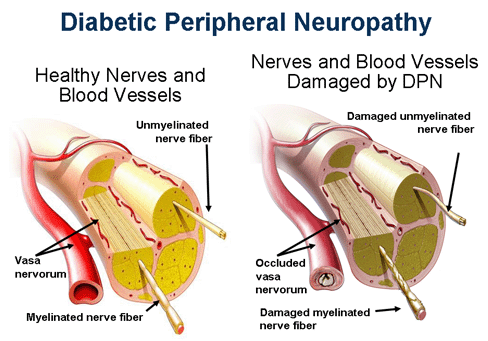 Diabetes is the leading cause of peripheral neuropathy in the United States, with 60 to 70% of patients with diabetes having mild to severe neuropathy.
Cancer
Cancer can creep into nerves, causing damage. Surrounding cancerous tissue can grow and pinch compress nerves, causing damage. Toxicity of chemotherapy can cause neuropathy. As many as 30 to 40% of of people with cancer develop neuropathy symptoms and pain, and it is the main reason people electively stop chemotherapy.
Autoimmune Diseases
Autoimmune diseases, where the body attacks itself, can lead to nerve damage. When tissues damaged by autoimmune diseases, such as joints, organs and connective tissues, become inflamed, the nerves around these areas may become compressed or pinched.
Kidney Disease
Kidney disease causes an excess of toxic substances in the blood that damages nerves.
Infections
Infections of virus and bacteria that can attack nerve tissue includes shingles, Epstein-Bar, West Nile (spread by mosquitoes), herpes, and cytomegalovirus. These can severally damage sensory nerves, causing sharp, electric pain. Lyme disease, the tick-born infection, causes extensive nerve peripheral nerve damage.
TOXIN EXPOSURE
Medications
Medications for heart and blood pressure can commonly cause neuropathy, as well as medications for cancer and to fight infections.
Environmental toxins
Environmental toxins, such as mercury, lead, and arsenic can cause neuropathy. Insecticides and solvents are also know to cause nerve damage.
Alcohol
Alcohol consumed in heavy amounts is a common cause of neuropathy. Nutritional deficiencies that develop as a result of alcohol consumption also further contributes to neuropathy.
---
Treatment Options for Neuropathy
Conventional treatment for neuropathy has left 20 million Americans suffering from nerve damage. Treatment should include addressing the key causes of patients' neuropathy symptoms, not just treat the symptoms with medications that hide the symptoms and allows the nerves to continue to degenerate.
If you are experiencing nerve damage, be sure to seek medical help that targets the cause of your neuropathy. For some, if the cause is eliminated, the neuropathy will reverse. For others, the right treatment will at least stop further progression to more serious, and even disabling, conditions.
Reverse Neuropathy at Our Orange County Neuropathy & Pain Center
Common medical treatment for neuropathy involves pain pills, anti-seizure medication, and anti-depressants – all of which have serious side effects and don't address the cause of your nerve damage, so they fail to give you a lasting solution.
Dr. Winchell's safe, natural, innovative treatment for peripheral neuropathy increases blood flow to the damaged nerves and activates cellular healing. Rather than an attempt to just hide your symptoms with medication and let your nerves continue to degenerate, Dr. Winchell's approach targets healing your nerves for a lasting solution that not only stops the discomfort, but stops and reverses the condition all together.
After a thorough exam at our Orange County neuropathy and pain center, Dr. Winchell will develop a personalized plan for your recovery so you can finally be free from annoying and often agonizing symptoms, as well as prevent even more serious, and potentially irreversible damage.