Common Symptoms of Neuropathy in
Arms, Hands, Legs, or Feet
Sensitivity to Temperature
Faster Healing with Erchonia Laser Therapy
Featured on: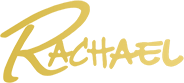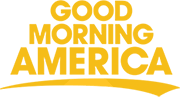 Message From Dr. Winchell
"I was just like you. One of the many neuropathy sufferers who tried everything, but had no long-term solution. After extensive neuropathy research following studies at the likes of Harvard and National Institutes of Health, I found a neuropathy treatment protocol that worked for me, and is working for my patients with a 95% satisfaction rate that targets your systems which heal your nerves, and includes clinically-proven laser to accelerate your body's healing process for quick results. Most of my patients report feeling improvement with the first treatment. I would be honored to help with YOUR neuropathy recovery."
Learn More About Dr. Winchell
Fast Science-Based Neuropathy Reversal
Peripheral neuropathy is nerve damage that has many different types and causes. From annoying burning and tingling, difficulty walking, to life-altering pain and complete disability. Dealing with weird (almost indescribable) sensations in your limbs when trying to sleep, walking with relentless pain, or trying to work while your foot is smoldering -- peripheral neuropathy sufferers are often frustrated and defeated even by the end of just a routine day.
What are your options? If you've already seen a medical doctor, you were left with one of two things. One, news that there is nothing that can be done for your nerve damage. Or two, a prescription whose one and only purpose it to play mind tricks on you – to hijack your pain messengers. Think about it, these pain messengers are actually good guys. They are on your team, trying to tell you that there is a serious problem -- your nerves are slowly dying. But we send in anti-seizure medications, anti-depressants or opioids to do the dirty work – shut them up.
I've yet to meet a neuropathy patient who was thrilled with these options. But out of desperation, the drug goes down the hatch. Sometimes the drug does the deed and the messengers are hushed. Although, only temporarily. The nerves are left to die a slow death (literally, here). The assault on your nerves has not stopped. The good messenger guys just can no longer tell you so.
These typical medical treatment options for neuropathy have left 20 million Americans suffering from nerve damage.
The New Approach to Neuropathy Treatment
Fortunately, there has been a great deal of neuropathy treatment research as of recently -- especially at the National Institutes of Health and Harvard. Following the results of these studies, I have developed a safe, natural, peripheral neuropathy treatment that is helping thousands of patients. Rather than an attempt to just hide your symptoms with medication and let your nerves continue to degenerate, this approach targets healing your nerves for a lasting solution that not only stops the discomfort but stops and reverses the condition altogether. The cherry on top? It's a non-drug, non-injection, non-surgical approach.
How to Choose a Neuropathy Doctor
I completely understand what you are going through. I was once a neuropathy patient too. I am compassionate about your discomfort and truly want to see you get well. About 95% of my patients report being completely satisfied with their treatment. I consider that excellent odds since no two people and no two conditions are exactly alike. But there is a little catch, I only accept patients that I believe I can help. And that is good for both of us. You don't spend time or money on something that won't work, and I leave my schedule open to people who can benefit. Because ultimately, my goal is to help people heal.
There are some doctors out there promising the moon and charging prices to match. I end up with these patients in my office all the time after they leave these doctors' offices frustrated by a treatment that made no symptom improvement and frustrated by their empty wallets. You've seen sells-pitch ads for this around town disguised by a "free gourmet meal" or seminar.
Choose a neuropathy doctor who really understands what you are going through. Who takes time to listen and get to know your particular concerns. A doctor that has proven success treating your condition, and who is honest and upfront with you.
Meet a Few of Our Neuropathy Patients
Rita M., Mission Viejo
"My feet were burning at night and I had to stick the out from under the blanket. It was hard to stand in one place or walk. I was amazed after 12 treatments how much improvement I had. I would recommend to anyone that has foot problems to make an appointment, they can do wonders for your feet."
Junis K., Irvine
"Prior to treatment when I would sit down my legs would start to tingle and go to sleep. This treatment has stopped the burning in my feet. It has been a miracle! It's wonderful to sit down in the evening to read and not have my feet burning. The treatment is so gentle and easy to do."
Satoko M., Irvine
"I used to have pain in my left leg and foot, and couldn't stand without holding on to something. After getting the treatments I now can walk without holding on to anything! Dr. Winchell is very professional and friendly and the staff is really nice too. Go for the treatment!"
Terry W., Santa Ana
"For 20-25 years I've had problems with my feet. They would become very numb, and I would get sharp pain. I ended up taking medications which did not cure me. With this treatment with Dr. Winchell the changes for me have been dramatic. The therapy has reduced the tingling, there is almost none left, and the pain is gone. I no longer take medication for my neuropathy--there's no need for it!"
Glen J., Huntington Beach
"What really got my attention was when my hands got so bad that I couldn't hold onto a golf club anymore. Then I tripped and fell injuring my neck because my balance was so bad. I went to several neurologists, hospitals, and my family doctor, and none of the helped me. I had bad feet, bad hands, bad walking, and pain all the time. I saw an advertisement for Winchell Chiropractic & Wellness that got my attention. I was really feeling discouraged about my condition, so I scheduled a consultation with him. I have had a few treatments at the office and I'm already walking much better and the pain in my hands and feet has improved completely."
Ronald S., San Clemente
"Before coming to your office I had pain in my left leg and both feet that was so bad I couldn't walk for extended periods of time. I saw other doctors without any relief. After starting treatment my pain is 80% improved and I can walk longer. Go see Dr. Winchell. He has an excellent staff and they are very pleasant and helpful."
Confusing Neuropathy Symptoms Explained
It is difficult to know if your symptoms are due to nerve damage unless you have a neuropathy evaluation by a qualified doctor. Symptoms can be very different from one person to the next. Due to the danger of leaving neuropathy untreated, we highly encourage you to not self-diagnose or self-medicate with over-the-counter pain relievers.
The following explanation of symptoms can help you determine if you are in need of a neuropathy evaluation and seek care that targets the cause of your condition.
There are three categories of nerve damage caused by neuropathy -- motor, sensory and autonomic. The severity of nerve damage will determine the severity and number of symptoms you experience.
Motor Nerve Damage
Motor nerves control voluntary movement -- movement you control by telling them what to do. Such as grabbing a pencil, talking, and walking.
Common symptoms of motor nerve damage include:
muscle weakness
twitching
cramping
muscle atrophy (significant shrinking of muscle size)
decreased reflexes
Sensory Nerve Damage
Sensory nerves communicate information of feelings, like the pain of a cut or heat from the sun.
Common symptoms of sensory nerve damage include:
loss of feeling on the skin, such as touch or heat
the feeling of wearing gloves or socks, even when not
loss of coordination, making it difficult to tie shoes or button a shirt
loss of balance, making walking more difficult
oversensitivity to pain
oversensitivity to touch, causing people to lightly drape sheets over when sleeping
loss of pain sensation, the most dangerous symptoms of them all and the leading cause of diabetic neuropathy patient amputation after not getting treatment because they could not feel their nerve damage so did not get treatment
skin, hair, joints, and bone may also be damaged over years of sensory nerve damage
Autonomic Nerve Damage
Autonomic nerves control your automatic body functions, like breathing and digesting food.
Common symptoms of autonomic nerve damage include:
inability to control blood pressure
loss of bladder control
inability to sweat, which affects tolerance for heat
sexual dysfunction
digestion issues
dry eyes
changes in sweating
changes in nails and skin
dry mouth
cold feet and hands
Common Causes of Neuropathy
PHYSICAL TRAUMA
Injuries
Nerves that are pinched, crushed, or cut from trauma such as in sports injuries, auto accidents and falls can become damaged and develop neuropathy. Broken bones and dislocated bones can put pressure on and damage surrounding nerves.
Repetitive Stress
Repetitive motion, especially experienced in sports, typing, and some jobs, over a long period of time causes ligaments, tendons, and muscles to become inflamed and swollen. This then narrows the small tunnels where nerves pass, causing the nerves to be pinched and damaged. Ulnar neuropathy is an example of nerve damage trapped in the elbow, and carpal tunnel syndrome is an example of nerves trapped or compressed in the wrist.
DISEASES AND DISORDERS
Diabetes
Diabetes is the leading cause of peripheral neuropathy in the United States, with 60 to 70% of patients with diabetes having mild to severe neuropathy.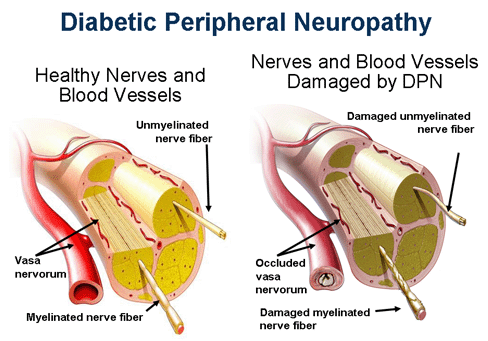 Cancer
Cancer can creep into nerves, causing damage. Surrounding cancerous tissue can grow and pinch compress nerves, causing damage. Toxicity of chemotherapy can cause neuropathy. As many as 30 to 40% of of people with cancer develop neuropathy symptoms and pain, and it is the main reason people electively stop chemotherapy.
Autoimmune Diseases
Autoimmune diseases, where the body attacks itself, can lead to nerve damage. When tissues damaged by autoimmune diseases, such as joints, organs, and connective tissues, become inflamed, the nerves around these areas may become compressed or pinched.
Kidney Disease
Kidney disease causes an excess of toxic substances in the blood that damages nerves.
Infections
Infections of virus and bacteria that can attack nerve tissue includes shingles, Epstein-Bar, West Nile (spread by mosquitoes), herpes, and cytomegalovirus. These can severally damage sensory nerves, causing sharp, electric pain. Lyme disease, the tick-borne infection, causes extensive nerve peripheral nerve damage.
TOXIN EXPOSURE
Medications
Medications for heart and blood pressure can commonly cause neuropathy, as well as medications for cancer and to fight infections.
Environmental toxins
Environmental toxins, such as mercury, lead, and arsenic can cause neuropathy. Insecticides and solvents are also known to cause nerve damage.
Alcohol
Alcohol consumed in heavy amounts is a common cause of neuropathy. Nutritional deficiencies that develop as a result of alcohol consumption also further contribute to neuropathy.
Don't fall for chicken dinner sales pitches
Let's just be straightforward with one another. If you really want to get well and end your neuropathy ordeal, book a nerve damage screening so I can test if you still have enough functioning cells to heal. No song and dance, no rubber chicken, just an honest outlook on what you can expect with treatment methods backed by the science of National Institutes of Health and Harvard Medical.
Don't let the damage continue to accumulate. Book your nerve damage screening now.
Signature Laser Peripheral Neuropathy Treatment
Common medical treatment for neuropathy involves pain pills, anti-seizure medication, and anti-depressants – all of which have serious side effects and don't address the cause of your nerve damage, so they fail to give you a lasting solution.
Dr. Winchell's safe, natural, peripheral neuropathy treatment program increases blood flow to the damaged nerves, stimulates regeneration of your damaged nerves and activates cellular healing. Rather than an attempt to just hide your symptoms like other neuropathy treatments that let your nerves continue to degenerate, Dr. Winchell's approach is aimed at helping your body to heal itself from within for a lasting solution with the goal to not only stop the progression but reverse the condition.
After a thorough exam at our Orange County neuropathy and pain center, Dr. Winchell will develop a personalized plan for your recovery from annoying and often agonizing symptoms, as well as prevent even more serious, and potentially irreversible damage.