Signs and Symptoms of Scoliosis
One Shoulder or Hip Looks Higher
One Pant Leg Looks Longer
One Shoulder Blade Sticks Out
Scoliosis Symptoms, Types, and Non-Surgical Treatment
Scoliosis is an abnormal curvature of the spine.  A S-shape is generally called scoliosis, a hump is called kyphosis, and a swayback is called hyperlordosis.
While scoliosis can be caused by conditions such as cerebral palsy and muscular dystrophy, the cause of most scoliosis is unknown. Scoliosis runs in families, but doctors often don't know the cause. More females than males have severe scoliosis. Adult scoliosis may be a worsening of a condition that began in childhood, but was not diagnosed or treated.
In other cases, scoliosis may result from a degenerative joint condition in the spine, like osteoporosis where the bones soften and allow the vertebrae to bend.
Often overlooked, leg-length discrepancy, a condition where one leg is shorter than the other, causes incorrect curvatures of the spine.  If not treated properly, severe back pain, deformity, and difficulty breathing can develop.
Signs of Scoliosis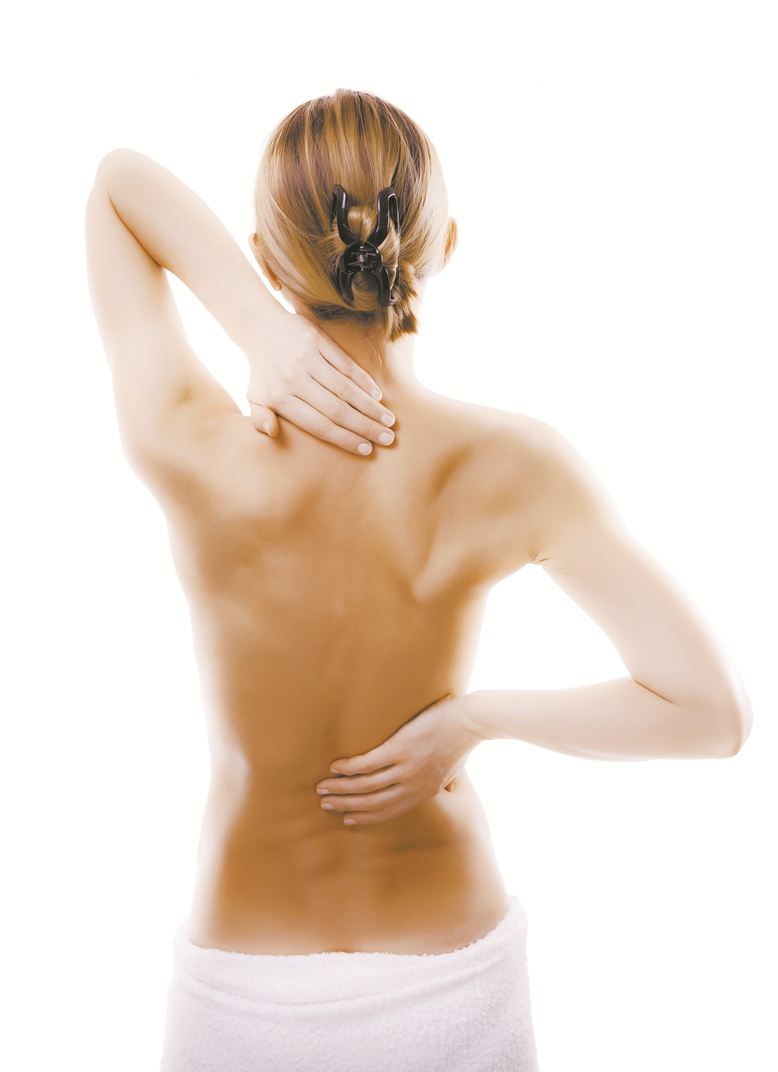 In mild cases, scoliosis does not cause pain until it progresses to a more severe case. To detect scoliosis in an earlier stage, symptoms can often be detected by looking from behind.
One hip or shoulder may look higher
One shoulder blade may stick out more than the other
The head may not look centered over the body
The length of one pant may look longer than the other
Symptoms of Scoliosis
Some of the common symptoms in moderate to severe scoliosis could include any of the following:
Changes with Walking
When the spine twists and bends sideways enough, it can cause the hips to be out of alignment, which changes a person's gait or how they walk. You may notice one hand brushing against one hip when walking but not the other.
Pain
If the curve becomes severe enough, back muscles may spasm and cause pain. Inflammation may develop around the strained muscles and further the pain. The discs between the vertebrae and facet joints may start to degenerate with the increased pressure.
Reduced Range of Motion
The spine deformity can reduce flexibility for bending.
Trouble Breathing
If the spine rotates enough, the rib cage can twist and decrease the lung space. Bone may then push against the lungs and make breathing more difficult.
Cardiovascular Problems
If the rib cage twists enough, reduced space for the heart can interfere with the heart's ability to pump blood.
Non-Surgical Treatment for Reversing Scoliosis
In order to correct scoliosis, the normal cervical and lumbar curves must first be re-established.  Which is why bracing and surgery ultimately fail in so many cases, as these treatment approaches do not address the full spine. Once accomplished, tension on the spinal cord is reduced and allows for correction in the lateral dimension.
Surgery should be considered the last alternative in treating scoliosis, and reserved only for severe cases. The majority of cases never progress to a severe level. Research has proven chiropractic care is effective in stabilization and reduction of scoliosis for most mild and moderate cases. Dr. Winchell, top Orange County Chiropractor in Mission Viejo, has successfully treated thousands of scoliosis patients.
Early detection and scoliosis treatment in children is key to avoiding painful scoliosis that interferes with a child's play or sporting activities, or to avoid progression of the disorder into adulthood.
You are invited to book a complimentary consultation and exam to find out if you or your child has scoliosis or how scoliosis may be corrected.