Common Symptoms of Spinal Stenosis
Shooting Pain in Buttock, Arms or Legs
Reduced Pain When Sitting or Bending
What is Spinal Stenosis and Why is it a Problem?
Spinal stenosis is the narrowing of your spinal canal and nerve root canal along with the enlarging of your joints in your spine. Most commonly it is caused by osteoarthritis and your body's natural aging process, but it can also develop from injury or previous surgery. As the spinal canal narrows, there is less room for your nerves to branch out and move freely. As a result, they may become swollen and inflamed, which can cause pain, cramping, numbness or weakness in your legs, back, neck, or arms.
Spinal stenosis is a degenerative condition that happens gradually over time. In addition to narrowing of the spinal and nerve root canals, it may also cause:
Enlargement of the facet joints
Stiffening of the ligaments
Overgrowth of bone and bone spurs
Stenosis can occur along any area of the spine (cervical, thoracic, lumbar), but is most common in the lower back area. Nearly every adult's spinal canal narrows with age; however, for most people this does not cause symptoms. Narrowing of the nerve root canal (lateral stenosis) presses on the spinal nerves, causing inflammation and pain. Narrowing of the spinal canal (central stenosis) presses on the spinal cord causing inflammation and weakness.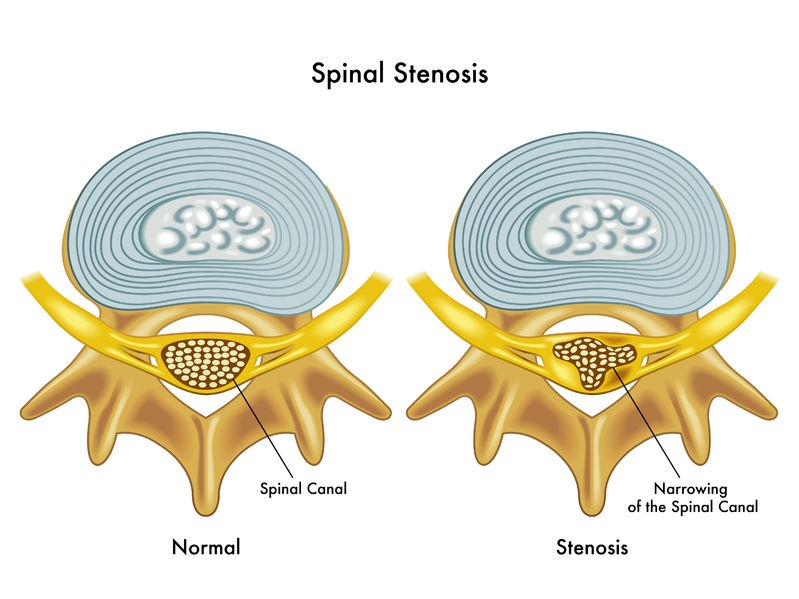 Anatomy of the Spinal Canal
To understand spinal stenosis, it is helpful to understand how your spine works. Your spine is made of 24 moveable bones called vertebrae. The vertebrae are separated by discs, which act as shock absorbers preventing the vertebrae from rubbing together. Down the middle of each vertebra is a hollow space called the spinal canal that contains the spinal cord, spinal nerves, ligaments, fat, and blood vessels. Spinal nerves exit the spinal canal through the nerve root canal to branch out to your body. Both the spinal and nerve root canals are surrounded by bone and ligaments. Bony changes can narrow the canals and restrict the spinal cord or nerves.
Spinal Stenosis Symptoms

Generally speaking, the various types of spinal stenosis produce similar symptoms.  Symptoms usually develop over time or may occur as a sudden onset of pain. You may feel a dull ache or sometimes sharp and severe pain in different areas, depending on which part of the spinal canal has narrowed. The pain may come and go or only occur during certain activities, like walking.  The longer a patient with spinal stenosis stands or walks, the worse the leg pain will get.
Common symptoms of spinal stenosis includes:
Burning, tingling, or shooting pain in the buttock, arms or legs
Low back pain
Reduced pain in arms and legs when bending forward or sitting
Numbness and tingling
Weakness
Leg pain while walking can be caused by either arterial circulatory insufficiency or from spinal stenosis. Leg pain from either condition will go away with rest, but with spinal stenosis the patient usually has to sit down for a few minutes to ease the leg and often low back pain, whereas leg pain from vascular causes will go away if the patient simply stops walking.
Flexing forward or sitting will open up the spinal canal and relieve the leg pain and other symptoms, but they recur if the patient gets back into an upright posture. Numbness and tingling can accompany the pain, but true weakness is a rare symptom of spinal stenosis.  An older person leaning over the handle of their shopping cart while making short stumbling steps often has spinal stenosis.
What is the Right Spinal Stenosis Treatment for Me?
(Hint: It's NOT Back Surgery)
Typically, a conventional doctor will prescribe pain or anti-inflammatory medication, physical therapy, and/or surgery. The worst part about all of these options is that they don't actually fix the cause of the problem, and the problem is then left to continue getting worse. When you may get termporary pain relief with medication or some physical therapy movements, you will not heal because the narrowing is still present. Surgery is all too often a poor choice as well. As many as 50% of the 200,000 people who have lower back surgery each year don't get their expected result, or get worse. Approximately 40% experience failed back surgery syndrome. In fact, according to the University of California, Irvine Medical Center, of the 56 million Americans who have back pain, only 5 percent need surgery.
There's even a term for what happens when a back operation doesn't improve a patient's condition — "failed back surgery syndrome," said to be the only diagnosis named for a treatment that hasn't worked. Unnecessary back surgeries are rampant.
Spinal Stenosis Relief with Chiropractic Care
Dr. Winchell, Orange County Chiropractor, is well-known for his highly successful treatment of spinal stenosis. Patients receive a personalized plan for their specific condition, but typical treatment may include joint realignment to restore the delicate spinal system back to its normal function. Dr. Winchell uses Erchonia laser therapy for spinal stenosis to reduce inflammation, increase blood flow, stimulate nerve function, help generate new healthy cells, develop collagen and muscle tissue, and promote faster healing. When appropriate, Dr. Winchell may introduce exercises to improve strength, endurance and stability, and to prevent new injuries.
Avoid often unsuccessful surgery and side affects of medication. Make Dr. Winchell your first choice for spinal stenosis recovery.