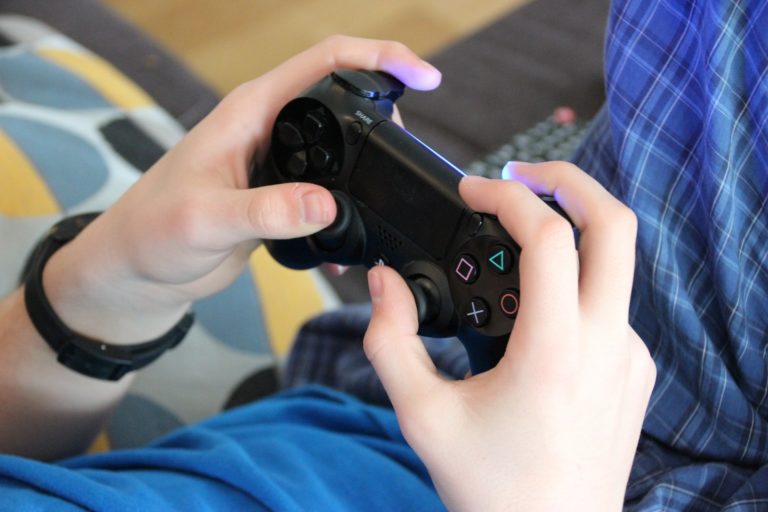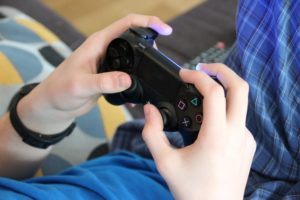 As an Orange County chiropractor, I'm seeing more teens and young adults in my office seeking chiropractic care. Often, this is due to prolonged video gaming. Marathon gaming is popular among many kids and even some grownups. Unfortunately, this is leading to neck pain, postural syndrome and even carpal tunnel syndrome in the young.
According to one recent statistic, the average American teenager may spend almost seven hours per week gaming. Often these are marathon stretches of sitting. The average position finds the body hunched over.
Yes, upper cross syndrome, carpal tunnel syndrome, tendinitis and gamer's thumb are rising in young people; evidence suggests that gaming may be the culprit.
Upper Cross Syndrome and Chiropractic Care
Postural syndrome results from spending long periods of time in positions that lock or hold joints, muscles and tendons in unnatural positions. For the video gaming adolescent or young person, this means shoulders rounded and a hyper-extended neck.
Postural position is not lasting or worrisome on its own because the associated pain is generally alleviated by changing positions.
However, postural syndrome may lead to upper cross syndrome where shoulders, neck and chest muscles become weak, tight and strained. Over time, this shortens the major and minor pectoral muscles and it may even lead to joint damage.
Upper cross syndrome is diagnosed through observation. As an Orange County chiropractor, I notice the following in video gaming adolescents and young adults:
Head in a forward or extended position
Spine curving inward at the neck
Outward spinal arc near the shoulders
Shoulder rounding
Symptoms include:
Back pain
Neck pain
Muscles stiffness
Reduced range of motion.
Exercise can help relieve pain and strengthen muscles, but the longer the video gaming sessions and the tighter the muscles, the harder it is to bring these things back in line.
In some cases, muscle damage and joint misalignment require treatment.
Treatments for upper cross syndrome include chiropractic care and physical therapy to realign joints and increase range of motion.
Carpal Tunnel Syndrome and your Orange County Chiropractor
The carpal tunnel consists of knotty bones in the area where writs and hands meet or the area that houses the median nerve. Restriction of this nerve, results in carpal tunnel syndrome.
For the video gaming young, the repetitive and jerky motions associated with extended play contribute to carpal tunnel syndrome.
Symptoms of carpal tunnel syndrome include:
Numbness or tingling
Finger pain
Hand weakness
Pain in the shoulder
Shooting pain
As an Orange County chiropractor who successfully treats video gaming young people and others with carpal tunnel, I caution against surgery.
Cold laser therapy and other specific treatments based on unique symptoms have proven to be successful in the treatment of carpal tunnel syndrome; not to mention less invasive and far less costly.
Tendinitis and Gamer's Thumb
Tendinitis in the wrist and hand are often attributed to repetitive movements.
Tendinitis means inflammation in the tendon. For video gaming kids and young adults, this is common in the wrist and fingers. The result is usually pain, swelling, stiffness and burning. It can take weeks or to recover from tendonitis, which is treated through restrictive movements outside of deliberate and prescribed exercises to stretch the tendons. Massage therapy may also be beneficial.
Gamer's Thumb or De Quervain's Tendinosis
Gamer's thumb generally presents with pain in the thumb or along the thumb and wrist. It is aggravated by use or picking things up in a thumb and forefinger motion.
Treatments for gamer's thumb include:
Splinting to keep the thumb straight
Avoiding repetitive thumb movement such as hitting buttons on a game controller
Avoiding thumb and forefinger use when picking up objects
Applying ice
Avoiding Video Gaming Complications
As an Orange County chiropractor who has successfully treated gamer-induced conditions in my chiropractic office. I advise chiropractic care to help gamers who find themselves in pain daily or even often.
When you're dealing with young people—adolescents and young teens—it's important to remember that they have not completed their growth cycles. This means that hunching over and repetition of motion may cause joint damage later in life.
Limit video game play to schedule times
Avoid prolonged play without changing positions or taking breaks to walk around or stretch
Do not  hunch over the game controller
Avoid repletion of movement with thumbs and fingers on the keyboard or controller
Adopt a straighter sitting position—not rigid but relaxed
Finally, if you are a gamer in pain or notice joint stiffness and burning—neck, hands, wrists, shoulders or thumbs—schedule an appointment with my Orange Country chiropractic office for an assessment.
Currently, I'm offering a free consultation to new patients, and this includes teenagers and young adults. With the upswing in young gamers coming through my practice lately, I'd advise you to schedule your child's assessment sooner rather than later.